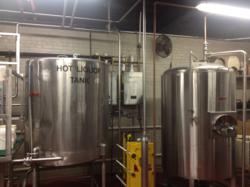 Appleton, Wisconsin (PRWEB) September 27, 2012
In the winter of 2011, Steve Lonsway, president and brewmaster of the Stone Cellar Brewpub & Stone Arch Brew House in Appleton, Wisconsin, was faced with a challenge. One of the three standard tank water heaters in the restaurant at his brewery stopped working and the company needed hot water to service its customers. Frustrated by the constant heating process and capacity limitations of a standard tank, Steve went online and researched tankless water heaters which he discovered while traveling through Europe.
After contacting Baumgart Plumbing, Steve learned about Eternal hybrid water heaters. Eternal hybrid water heaters provide endless hot water like a tankless, but have a small reserve tank inside so hot water is ready when needed. The first unit, an Eternal GU195S, was installed at the end of 2011 in the restaurant and two more units were installed in early May in the brewery.
Since the Eternal hybrid water heaters were installed, Steve has seen a noticeable difference in how the brewery operates. With the old standard tanks, the brewery had to preheat the water for 3 to 3? hours before it could brew a batch of beer. Now with the Eternal hybrid water heaters, the brewery can start brewing immediately. ?Having endless hot water readily available has been amazing for us,? said Steve Lonsway. ?The labor savings have been awesome as well as the energy savings.?
Not only have the hybrid water heaters reduced the brewery?s energy consumption and labor costs, but they also have increased its capacity. With the old tank water heaters, the brewery could only brew one batch of beer in an eight hour day. Now, the brewery can produce two batches of beer in a ten hour day. ?The impact has been unbelievable and has really helped boost the Stone Cellar Brewpub?s bottom line,? Steve commented. This year, the brewery expects to produce 2,500 barrels of beer compared to 1,200 in 2011. In 2013, the brewery anticipates the total output will increase to 3,600 barrels.
Grand Hall USA, manufacturer of the Eternal hybrid water heaters, is proud to offer homeowners and businesses like the Stone Cellar Brewpub, an eco-friendly hybrid solution for endless hot water. ?We want people to think differently about hot water,? said Paul Home, VP of Product and Marketing for Eternal hybrid water heaters. ?With the Eternal, the water heater is more than just a source for hot water. It?s a highly efficient technology that can reduce energy consumption while supplying enough heat to help a brewery turn water into beer!?
In addition to providing endless hot water with up to 98% efficiency, the Eternal has ultra low emissions that leave almost no carbon footprint and a NSF compliant stainless steel heat exchanger that eliminates rust and lead concerns associated with standard tanks. It also comes with a 15 year residential, 5 year commercial no leak warranty.
As the oldest operating brewpub in Wisconsin, the Stone Cellar Brewpub is pleased it selected the Eternal hybrid water heater. Originally built as a brewery in 1858, the brewery has had several owners over the years. In 1989, it became a brewery and a restaurant. Today, it offers 7 beers year round and 2 ? 4 seasonal beers. The brewery is committed to offering high quality food and beer to its customers while implementing community centered programs and eco-friendly business solutions. For more information on the Eternal hybrid water heaters, go to eternalwaterheater.com.