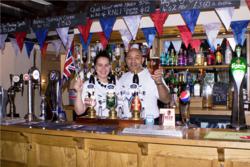 Brantham, Essex, Suffolk (Vocus/PRWEB) 1 April 2011
Who says that champagne is the drink of celebrations? Not the Bull at Brantham, they will be launching their ?Royal? Ale Festival weekend April 29 ? May 1, with a special tribute to Wills and Kate on the Friday.
?Our menu of real ales features a Royal Theme that includes ?Kiss Me Kate? and ?Royale Wedding? both of which have been brewed especially for the wedding? ? Debbie Lee of the Bull explains.
Other ales include: ?Windsor Knot?, ?Crowning Glory? and the cheekily named ?Willies Crown Jewels?.
But don?t worry for the more traditional monarchists there will be a champagne breakfast available from 10 until midday and a large screen in the pub to watch the happy event.
Debbie says ?We would love our customers to get into the spirit of the day and will offer your first drink free if you arrive in your wedding finery! We can?t wait to put up the bunting and wave the flags ? it will be a great day for all. ?
The day?s fun is set to continue with a Pimms Tent, BBQ, traditional games and a bouncy castle for the children in the gardens overlooking the river Stour. The restaurant will also be open as usual as will the bar. The evening entertainment begins at 8.30pm and will be provided by the highly talented singer Joanna Fowler, finalist of the hit ITV1 show Grease is the Word.
The Festival and fun continues over the weekend with plenty of opportunity for the Real Ale enthusiasts out here to sample the Princely range of brews on offer. Ales will be available in third pint ?taster? glasses at ?1.
Debbie continues: ?There has been a lot of press about rural pubs struggling and we wanted to put on something really special to show just what the true British pub experience is all about. What better day to celebrate the British pub than on a Royal wedding day??
So gather up the family and head for the Brantham Bull for the Royal Wedding Bank Holiday weekend to sample some fantastic ales, great entertainment and celebrate this momentous day in good British style.
The Bull is a proud member of Camra as well as being Caskmarque accredited and is offering local businesses the opportunity to sponsor a barrel of ale for just ?20 including their name, advertising and a free pint.
The Royal Ale Festival takes place from Friday, April 29 to Monday, May 1 at The Brantham Bull, The Street, Brantham, Essex 01473 328494 http://www.thebranthambull.co.uk
###